No Tutoring or Latin Extra Help on November 26, 27 or 28 as the office is closed for the Thanksgiving Holiday. Happy Thanksgiving!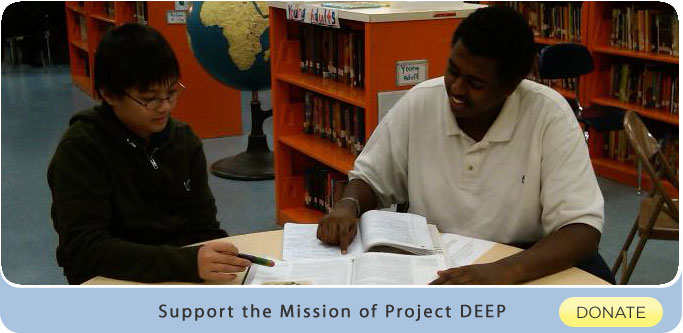 Welcome

Project D.E.E.P. is a 501(c)(3) nonprofit educational program, which operates through collaborations with Boston Centers for Youth & Families and Mayor Martin J. Walsh, and charitable institutions like The Amelia Peabody Foundation. The mission of the program is to foster the educational, athletic and social growth and development of middle school children of all races, creeds and ethnic backgrounds throughout the Dorchester community.
What's Happening NOW!

• Giving Tuesday is December 1st! A day of Thanks, two for great deals, and one to give back and celebrate generosity. Consider Project DEEP in your end of the year giving! No amount is too small! #GivingTuesday
• Looking for volunteer tutors for our Tutoring Program from November until May. Interested? Click here!
• 2016 Celebrate Dorchester Calendars are IN! Grab yours today!
• Toy drive for Toys to Tots starts Monday, November 30 through Thursday, December 17! Drop off an unused, unwrapped toy to the Project DEEP office and help make the holidays special for everyone! One on One Tutoring Students will be granted 1 hour of community service per toy (max. 2 hours).
• Meet Ashley, our new Office Coordinator!
• Latin Extra Help classes have started for BLS and BLA students on Wednesday nights! Get the scoop here!
• Cyber Monday is around the corner! You can shop til you drop and give back at the same time through AmazonSmile! See the link below!