Overview: Each year, middle school students from all over Boston struggle with their school work, the pressures of standardized testing, and the fear of getting into a good school.  On top of these challenges, kids are also balancing friends, family and after school sports and activities.  Thankfully, Project D.E.E.P. has been a shining resource in helping Dorchester students manage these responsibilities so that our students come out on top.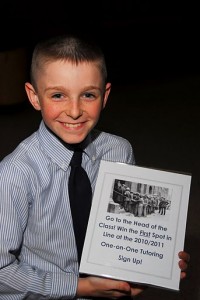 Since Project D.E.E.P.'s inception in 1995, we have prepared hundreds of Dorchester students for high school.  Whether it is through our Latin class, our Examination Preparation Program, or our most popular offering, the One-on-One Tutoring Program, our students go into high school with the grades and confidence to excel.  Also, by instilling community service, our students learn the importance of giving back and getting involved.
As you know or may have experienced, we have been able to provide over 1,000 summer camp scholarships as an incentive for academic commitment, create a best-of-class tutoring and examination preparation program, and been able to advocate for placement of our students in top-tier private and parochial schools.  Our goal is to continue in our mission to enrich the education of Dorchester youth, to encourage the children of Dorchester to push the boundaries of what they think they can do and show them that hard work overcomes all.  Whether you are a former D.E.E.P. student, tutor, volunteer or family member, you understand the importance of this program in Dorchester.